Alan Markovitz
Alan Markovitz was not your average teen growing up in the Detroit area in the 1970s. With long hair, a black leather jacket and a Triumph Bonneville motorcycle, which he could take apart himself, Alan was a rare Jewish greaser at Oak Park High School, causing havoc often. Especially true when he drove his Triumph through school hallways, getting a suspension, and a not surprising ass kicking from his father, Max, a Holocaust survivor.
After graduating high school Alan flirted with becoming a fighter pilot for the Israeli Air Force, training briefly with them before attending Wayne State University. He also began bartending for his neighbor Sol Milan, who owned La Chambre, a traditional topless joint on Detroit's west side. And as the saying goes, Alan was like a fish to water. Eventually he saved up some cash and, dropping out of college, partnered with Sol and even his father Max in opening his first topless club in the winter of 1982. Renovating a decrepit biker bar on Detroit's famed Eight Mile Rd., he called it…The Booby Trap. With a contemporary design modeled after the recently debuted T.G.I.Friday's, Alan targeted an upscale audience, featuring a skilled chef and even a dress code, becoming a pioneer of the gentleman's club before the term was even hatched.
The Booby Trap caught on immediately, drawing the business community as well as star athletes and entertainers, making the gossip columns regularly. But soon Alan had bigger ideas. After renovating an old, larger restaurant in nearby Dearborn, B.T.'s was born, and Alan was off and running. He would continually renovate old clubs the way he re-built mini bikes as a teen, creating new features and theatricality, staying firmly ahead of the competition. However his budding plans took a tragic turn when he was shot one night at the Booby Trap by a crazed dancer whom he had fired just hours earlier.
A slow painful recovery ensued before Alan was finally able to regain his mojo. He soon sold the Booby Trap, and later, after being the target in a murder-for-hire plot allegedly set by a new partner, sold B.T.'s as well. During the early 1990s Alan opened two luxurious clubs on opposite ends of Eight Mile Rd., Trumpps and Tycoon's, featuring state of the art sound and light shows, practically monopolizing the strip. Then, in 1997 Alan upped the ante again, with The Flight Club, not far from Detroit's Metro Airport. The fine wood trim and brass of T.G.I.Friday's would give way to granite table tops and elegant chandeliers, plus a 1967 Corvette convertible descending from the ceiling on which two dancers can share a cozy ride.
The Flight Club exploded out of the gate, but initial elation was tragically eclipsed when Alan was shot again, this time in the face by a drunken off duty policeman who had been ejected from the club. Aside from the shock of almost dying from a bullet a second time, Alan endured another long slow recuperation, consisting of nine surgeries and substantial dental reconstruction.
In 2006 the City of Detroit hosted the nation's biggest party, the Super Bowl, during which executives from Penthouse Magazine stopped into the Flight Club, witnessing first hand the famed Markovitz touch. A relationship was quickly struck, from which Alan would open his own glittering version of the company's Penthouse Clubs, again on Eight Mile Rd., which to this day is the strip's crown jewel, with a pair of Harley motorcycles hanging from the ceiling, and a martini glass rising from the stage as two of its showcase features. Soon afterward Alan opened another Penthouse Club in Philadelphia, and coming soon, the newest edition in Pompano Beach, Florida in late 2015. Additionally, he took over operations of the massive Coliseum, in Detroit, by far the largest topless club in the entire Midwest.
With each new venture, Alan takes a giant stride in re-inventing not just an establishment, but an entire genre of entertainment. And in doing so his many fans can only wait to see what he has up his sleeve next.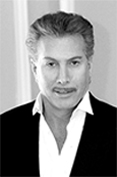 Alan Markovitz
Alan is the driving force behind Topless Prophet, and the most successful Gentleman's Club entrepreneur in America.
"It's nothing if not an interesting read. I highly
recommend this book."
-Frank Nemecek | Biogcritics
"Fascinating... Gripping,
yet extremely funny."
-Saundra McKenzie
"A very enjoyable read, and one that I
would recommend to anyone."
-Tim Gleichner | Review from Here